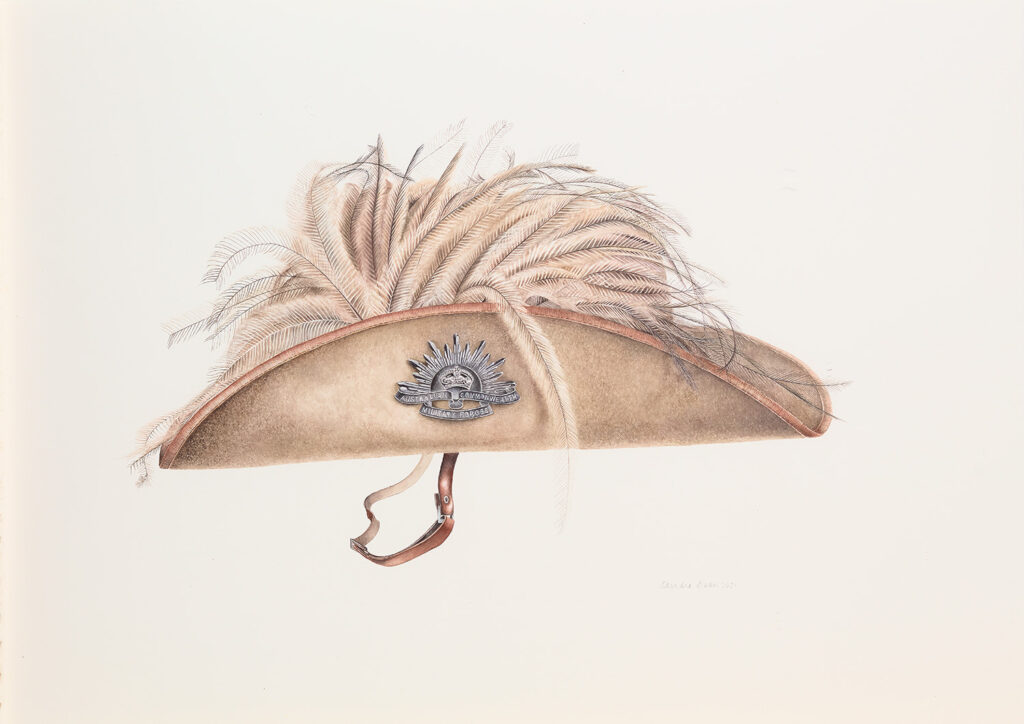 DIERDRE BEAN 
'. . . And you'll know him by the feathers in his hat.' 
Watercolour on arches 300gsm paper 
40 x 57cm 
Banjo Paterson's poem, Queensland Mounted Infantry (1900) describes the quintessential Australian soldier as tough, athletic and irrepressible; an expert horseman and loyal soldier. The last line of the poem, '…And you'll know him by the feathers in his hat', is referring to emu feathers tucked into the folded brim of their slouch hats, a tradition the Queenslanders began in 1897. It was a proud display of their riding skills. 
Since that time, the slouch hat decorated with emu feathers has become a national emblem. 
I realized the significance of this hat on the day I put the final touches to the painting. It was the absence that struck me: the absence of an Australian soldier: one who may have worn it had they returned home. 
It has taken many hours to execute this painting and throughout the process, I reflected on those who served. Having visited Gallipoli and the Western Front battlefields, I recalled war historians' accounts of bravery against overwhelming odds that has left me with a deep enduring sadness we must never forget the sacrifice, loss and suffering. 
May each slouch hat, replete with emu feathers, forever have a proud Australian soldier to wear it.