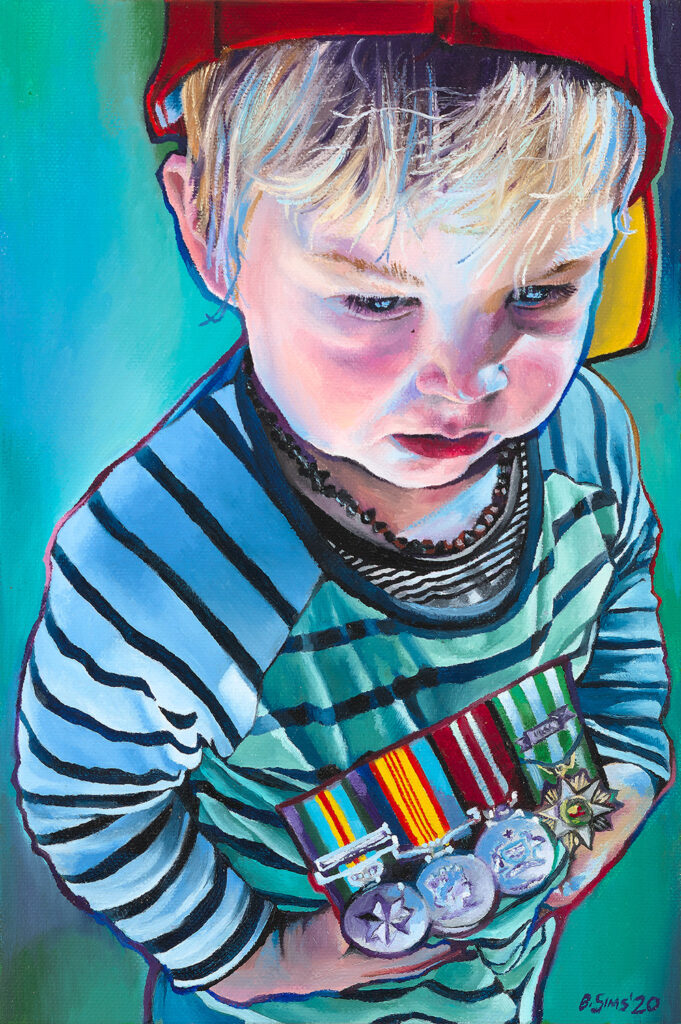 BELINDA LEIGH SIMS 
Blue Water Boy: Poppy was a Navy man. 
Oil on canvas 
40 x 30cm 
I am drawn to the subject of memory, loss and connection. My nephew is the grandson of a navy veteran from the Vietnam War. Dexter is as connected to the navy as his grandfather was, despite having never met Colin. His mother explains: "Dad didn't talk about the navy much. We actually didn't know the role his unit played in Vietnam until very recently. I think he found it hard to be proud of his medals and his involvement in Vietnam but he was proud of his son wearing them and proud of us being respectful of service men and women. Dad loved the water, all water, and water for me has a connection to dad. Every "lesson" I give Dex is a lesson I got from dad. Most of my memories of dad are near water and it always amazed me that someone that grew up in the desert knew so much about boats and fishing! We scattered Dad's ashes in a little cove down where he was stationed next to the ocean."  
This artwork explores the deep family connections and loyalty, love and respect that can be forged through the lived experience of a war hero.