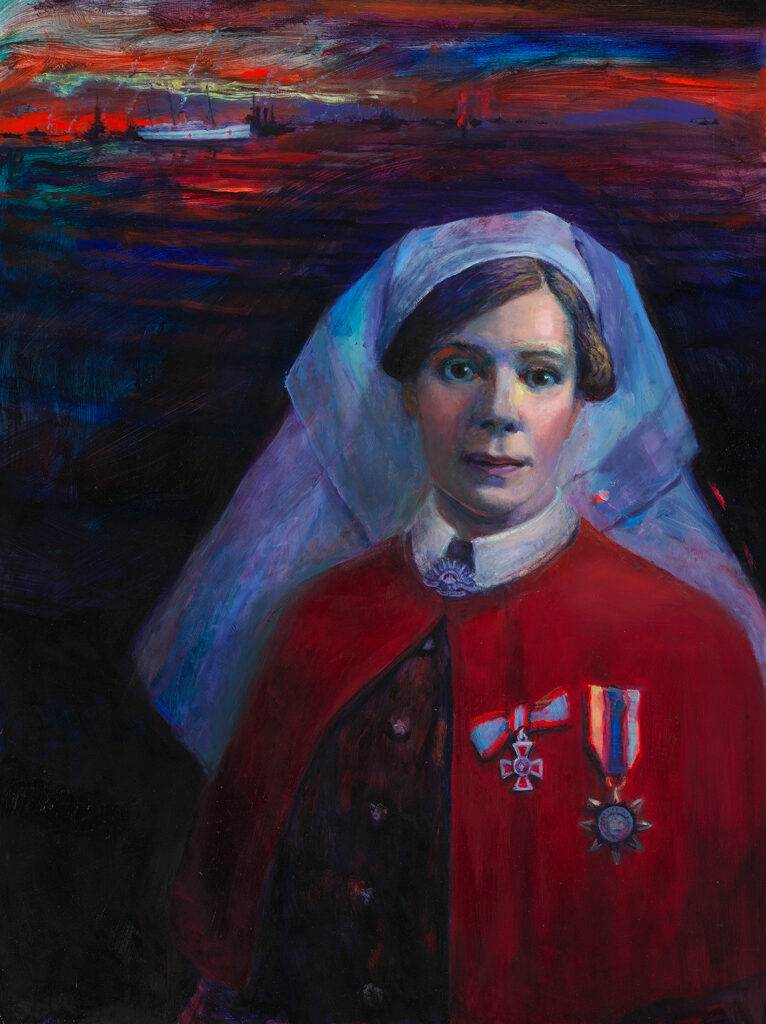 SUE MACLEOD-BEERE 
Sister Ella Tucker and HS Gascon 
Oil on board 
83 x 63cm 
Australian and New Zealand nurses confronted the horrors wrought on the Anzacs evacuated from the Gallipoli Peninsula. Australian Nurse, Ella Tucker, on board the hospital ship Gascon wrote: 
"They just poured into the wards all day. My ward holds 96 and I was responsible for 40 on deck." 
The ship itself was in danger: 
"…we were right up in the firing line several gun boats firing right over us…" 
Ella wrote of the hopelessness of tending the wounded: 
"…we are short of water, the boys are black, and so are the beds, salt water is not at all satisfactory for washing." 
The casualties were transported to military hospitals including Lemnos where appalling conditions awaited – no sanitation or running water. 
Ella was on board the Gascon for the whole Gallipoli campaign. She was one of few awarded the Royal Red Cross second-class medal by King George V. 
The depiction of ships in the background are based on drawings from the sketchbook of Captain Griggs who was on board the Gascon during the conflict.